Modern Comfort Meditation/Yoga Cushion Set | Great for Home or Travel | Indoor and Outdoor Use | Set Includes Inflator Pump

Comfort | Portability | Storability
Modern Comfort Meditation/Yoga Cushion Set | Great for Home or Travel | Indoor and Outdoor Use | Set Includes Inflator Pump

Comfort | Portability | Storability
Modern Comfort Meditation/Yoga Cushion Set | Great for Home or Travel | Indoor and Outdoor Use | Set Includes Inflator Pump

Comfort | Portability | Storability
Modern Comfort Meditation/Yoga Cushion Set | Great for Home or Travel | Indoor and Outdoor Use | Set Includes Inflator Pump
Comfort | Portability | Storability
Shop Now
Modern Comfort Meditation/Yoga Cushion Set | Great for Home or Travel | Indoor and Outdoor Use | Set Includes Inflator Pump
Comfort | Portability | Storability
Shop Now
Modern Comfort Meditation/Yoga Cushion Set | Great for Home or Travel | Indoor and Outdoor Use | Set Includes Inflator Pump
Comfort | Portability | Storability
Shop Now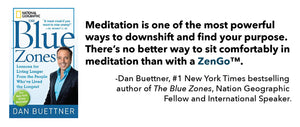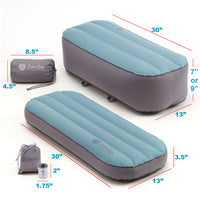 ZenGo™ meditation/yoga cushion sets adjust to your body, your practice and your lifestyle. They can travel with you anywhere. And stow away in a small space when you're not using them. They're the go-to practice prop for customizable comfort in a portable package.
·      What You Get – seat cushion and mat cushion with drawstring storage bag; inflator and charging cord with drawstring bag; four additional inflator nozzles you can use to blow up other inflatables such as pool toys and air mattresses. 
· Multi-Use – meditators and yogis choose ZenGo for home, office, hotel, beach, backyard, meditation retreat, yoga studio (especially for inversions and restorative poses), camping and RVs; the possibilities are endless. 
· Customizable Comfort – adjustable seat and mat cushions inflate separately to accommodate your height and weight and provide maximum comfort. Pieces snap together.
· Compact & Portable – folds down to a travel-friendly size and fits in the 4.5" X 8.5" drawstring bag included. 
· Travel Friendly – weighs just over a pound deflated (including inflator) for convenient portability in a purse, briefcase or backpack. 
· Promotes Proper Posture –ergonomic design reduces pressure on spine, hips and knees so you can practice longer in comfort. 
· Prevents Slouching – provides knee and ankle support, and tilts the pelvis forward for the optimum curve of the spine so you get the full health and wellness benefits of your practice.
· Stable - wide bench seat (Gomden style) for stable air distribution and assurance that it won't "pop" like beach ball type inflatable cushions. Need it firmer or less firm? Just inflate or deflate as needed for the perfect fit.
· Durable – soft yet sturdy fabric enables indoor/outdoor multi-surface use. 
· Hand Washable – wipes clean with mild soap and water. 
· Inflator Included – only takes a minute to set up both the cushion and mat. And deflates in seconds. Inflator weighs 2.82 ounces. Inflator and charging cord come in their own drawstring pouch for convenient storage. 
Shop Now
What Makes a ZenGo™ Inflatable Meditation/Yoga Cushion Set So Unique and Special?
Now you can meditate anywhere in comfort tailored to your own body. Say goodbye to one-size-fits-all cushions. Say hello to ZenGo™ meditation/yoga cushion sets for comfort and ease. Indoors or outdoors, ZenGo™ meditation cushion adapts to your body...and all the places your body wants to go.
Testimonials
I am 73 years old with creaky joints and stiff hips. The ZenGo allows me to sit comfortably to meditate. The two-tiered design keeps my hips high and provides support for my ankles and feet in any setting, outdoors or indoors, at home or while traveling. It has truly extended my meditation time.  

Linda L Halcon, Ph.D, MPH, RN
We took the Zengo meditation cushion on a Boundary Waters canoe trip this summer, and it worked like a dream. The two-part cushion was the key, and it was so easy to inflate and deflate.  I was able to sit on an uneven rock by the water and found that I could sit in the most comfortable position I have ever experienced while meditating. I am so glad I bought this item. I found that I really could become a daily meditator no matter where I find myself, 365 days a year (I've even used it in snow in the winter!).

Nimi Singh, MD, MPH
Brilliant design! It keeps my spine aligned and is the most comfortable cushion I've used for meditation.I give this product a strong 5 stars, with the highest recommendation.

Mary Ellen Kinney, RN
-I like to travel light but won't give up my morning sit when I'm vagabonding. I always take my ZenGo with me now. It's the best travel companion ever.

Beth Elaine Johnson, Meditation Teacher, Palm Springs, Ca
This is the most comfortable meditation cushion I have ever experienced. I have meditated for years and always used a regular mediation cushion.  The ZenGo provides pure comfort, like sitting on air, which actually I am! For work, I am a Sr. Vice President with a large investment firm and there is an abundance of high pressure and stress on a daily basis. My meditation practice helps dramatically with calming my mind and soul. I have always practiced in my home or at a mediation center, but now with the ZenGo, I can travel to various parks, waterfronts or just outside in the woods or a grassy meadow and meditate while experiencing the sounds, wind, sun and fresh air the nature so bountifully provides. The other great benefit is it's portable, so I also toss it in my suitcase when I travel. If you practice meditation, the ZenGo is a must!

Mark Brenna, Sr. Vice President, Financial Advisor